EUSA Newsletter 06-2022, ISSN 1855-4571

The upcoming edition of the European Universities Games will be held in Lodz this summer, with the official opening ceremony on July 17.

European University Sports Association (EUSA) with its Institute, in partnership with the Organising Committee of the European Universities Games Lodz 2022 (EUG2022), is preparing a series of special edition of the EUSA Newsletter, with which we are sharing the key information related to the event. The first edition has been sent out today; if you want to subscribe for the next one, you are very welcome to do so at https://www.eusa.eu/media/newsletter.

We expect over 5.000 participants representing over 400 European universities from 40 countries, to come to Lodz between July 17 and 30, compete in the largest academic sport event in Europe, taking part also in educational and social activities.

Athletes enrolled in higher education studies in Europe will be able to compete in 3x3 Basketball, Badminton, Basketball, Beach Handball, Beach Volleyball, Chess, Football, Futsal, Handball, Judo, Karate, Kickboxing, Sport Climbing, Swimming, Table Tennis (including Para Table Tennis), Tennis, Volleyball and Water Polo. The event will also feature promo events, like Sitting Volleyball and Para Power Lifting.

Alongside the sport competitions, the Games focus on educational and social aspects of university sport in Europe, featuring workshops in the topics of Anti-Doping, Dual Career, Inclusion, Volunteering, as well as the Rectors' Conference.

We are all working closely together, assuring the conditions which will enable quality sports competitions in a fair-play manner, and also offer educational and social activities in a safe way. The Covid-19 regulation for participation has been updated, allowing those who are vaccinated, recovered and with medical exemptions (as per national regulations) to take part.

A special offer is available to order official clothes of EUG Lodz 2022. The merchandise will only be available for purchase in PRE-ORDER by ordering online in the webshop, and collecting it in Lodz at the EUG.

The main sale is open until 12th June, with lower price guaranteed, and for first 100 orders, a bag with EUGenio will be added for free! Also a late sale will be possible from 13th June till 22th June, with standard prices, and after 22th June the sale is closed!

We would like to remind you of the registration deadlines:
Quantitative Entry Forms (number of people attending): deadline was due on May 15.
Individual Entry Forms (personal data, with certificate of academic eligibility for athletes): deadline coming up - June 1.
Travel Forms (arrival and departure data): deadline coming up - June 1.
A 1-week grace period will be tolerated, but please have the forms submittd by the designated contact person as soon as possible.

The European Universities Games in Lodz are being organised under the licence of the European University Sports Association (EUSA) by the Lodz University of Technology, University Sports Association of Poland (AZS) and City of Lodz, in cooperation with the EUSA Institute and several partners, inlcuding the Ministry of Education and Science, national and local tourism organisations, Polish Olympic Committee, national and local sports organisation, media outlets and is also supported by the Erasmus+ Programme of the European Union.

More information...
---
VOLFAIR volunteering in Zagreb


03 May 2022
 
  
 
 

Partners of the Erasmus+ funded project Be(ach) Volunteer, Be(ach) Fair! - VolFair met in Zagreb, Croatia, for a meeting on April 29th. The meeting was held on the occasion of the Beach Handball Tournament Jarun Cup 2022, led by project co-ordinator Beach Handball Club Zagreb (CRO).
 

2021 #BeInclusive EU Sport Awards


04 May 2022
 
  
 
 

On May 4, the European Commission organised the traditional #BeInclusive EU Sport Awards, as a hybrid event, with global live streaming. The aim of the events and awards is to help to spread the word about important initiatives and increase awareness of also smaller NGOs and individuals.
 

K2S coordination meeting selecting the volunteers


05 May 2022
 
  
 
 

On May 5, the partners of the Erasmus+ project Future volunteers - Key to success is Generation Z (K2S-GenZ) met online for a scheduled coordination meeting.
 

MLEA project in Olympic form


11 May 2022
 
  
 
 

On May 9, Europe Day, the Micro Learning Entrepreneurship for Athletes (MLEA) project partners met for a full day hybrid transnational meeting in Ljubljana, co-hosted by the Slovenian Olympic Committee and the EUSA Institute.
 

Istanbul getting ready for EUSA Rowing Championship


12 May 2022
 
  
 
 

Delegation of the European University Sports Association (EUSA) visited Istanbul on May 9 and 10, checking the preparations and logistics for this year's European Universities Rowing Championship, to be hosted there between September 7 and 9.
 

Welcome session for K2S volunteers


12 May 2022
 
  
 
 

Within the scope of the project Future volunteers - Key to success is Generation Z (K2S-GenZ), an online welcome session for the selected volunteers was held on May 11.
 

Legion of Honour awarded to university sport official


18 May 2022
 
  
 
 

Last month on April 28th, an award ceremony took place in the Town Hall of Toulouse in France, to award Mr Jean-Francois Sautereau, former President of the French University Sports Federation, and former Executive Committee member of the European University Sports Association (EUSA).
 

NUSA coordination meeting in Lodz, Poland


19 May 2022
 
  
 
 

Representatives of eleven national university sports associations (NUSA) had the opportunity to visit Łódź, from 17 -18 of May, with the purpose of getting acquainted with the ongoing preparations for the European Universities Games 2022. They were hosted by the Organizing Committee and EUSA Representatives.
 

European Solidarity Corps trainings in Zrece


23 May 2022
 
  
 
 

Slovenian national agency Movit hosted meetings with trainings for organisations with the European Solidarity Corps Quality Certificate between May 19 and 21 in Zrece, Slovenia. The events were aimed at coordinators and mentors dealing with European Solidarity Corps volunteers engaged in the accredited organisations in Slovenia.
 

20th International Rowing Regatta Sveti Duje


25 May 2022
 
  
 
 

The International Regatta Sveti Duje returned to Split for the 20th jubilee on May 14-15. For the twentieth year, the best European university rowing crews were gathered in Split, through their participation in the Sveti Duje International Rowing Regatta.
 

Successful SELL Games 2022


27 May 2022
 
  
 
 

The 37th edition of the SELL Games was hosted by the city of Riga in Latvia from 20-22 May. The event was attended by over 1200 participants, coming from 5 countries, competing in 14 sports. Three days full of teamwork, competition spirit, sports matches and fun took places in various sports venues in and out of Riga.
 

EUSA at the National Volunteer Week 2022


27 May 2022
 
  
 
 

On 26 May, around 50 organisations were present at Prešeren Square in Ljubljana, Slovenia for the National Volunteer Week. The event was a celebration of volunteering, an opportunity for organisations to promote their activities to the general public and for volunteers from different associations to meet each other and share their experience.
 

EUSA Control Commission meets online


27 May 2022
 
  
 
 

Members of the EUSA Control Commission met online on May 17, in preparation for the 2022 season of the European University Sports Association, with the European Universities Games Lodz 2022 and the European Universities Rowing Championship Istanbul 2022 coming up.
 

Queens Rugby 7 Festival in France


30 May 2022
 
  
 
 

More than 300 female players representing 16 rugby teams with diverse levels and ages coming from France, Ireland, Hungary, United Kingdom, Belgium, Andorra, Spain, Northern Ireland and Poland, participated at the Queens Rugby 7 tournament, taking place in Paris between May 13 and 15.
 

Register for the European Football Leadership Programme for Women and Ethnic Minority People


30 May 2022
 
  
 
 

Between September and November 2022, a European training programme will take place to enhance the leadership skills of women and ethnic minority people working in football and sport and support them in becoming advocates for change within their organisations.
 

ESU Celebrates 40th Anniversary


30 May 2022
 
  
 
 

The General Assemby/Board Meeting of European Student's Union was held from 26-28 of May in the city of Paris. Delegates from all over Europe had the opportunity to meet and collaborate on the growth of the organisation,to contribute to the policy documents as well as to celebrate the 40th Anniversary of ESU.The co-organizer of this board meeting along with the ESU was the National Union of Students in France (FAGE).
 

K2S GenZ volunteers in action


31 May 2022
 
  
 
 

The University of Miskolc, the co-host of the European Universities Games in 2024, hosted the MEFOB Festival on May 19-22, where, for the first time in the history of the hungarian universities championships, competitions in 8 sport disciplines were held at one location. The team of volunteers of the multi sport event also included 10 volunteers from the project "Future volunteers - Key to success is Generation Z (K2S-GenZ)".
 

ENGSO General Assembly 2022 in Faroe Islands


31 May 2022
 
  
 
 

The 30th ENGSO General Assembly was organized and held in Torshavn, Faroe Islands and hosted by the Faroese Confederation of Sports and Olympic Committee, on 27-29 May, 2022.
 

VolFair project partners meet in Tilburg


31 May 2022
 
  
 
 

Partners of the Erasmus+ funded project VolFair - Be(ach) Volunteer, Be(ach) Fair! gathered in Tilburg, in the Netherlands during the Camelot Beach Handball Tournament, for a meeting on May 28th.
 
---

FISU Section
Chengdu FISU World University Games postponed to 2023


06 May 2022
 
  
 
 

Following extensive discussions between the International University Sports Federation (FISU), the Chengdu 2021 Organising Committee and other key stakeholders, a decision has been taken to postpone the FISU World University Games to 2023.
 

FISU awards Healthy Campus certification labels


31 May 2022
 
  
 
 

On 27th of May, the International University Sports Federation (FISU) granted 43 universities involved in its Healthy Campus program with a certification label. Eighteen of them received the "Platinum" label, the highest level of certification. The award ceremony – the first of its kind – took place at the Université Libre de Bruxelles (ULB) in Belgium.
 
---

What's up! - Student Column
Sports and the Environment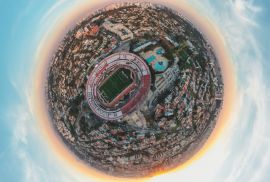 This month the student column focuses on the sustainability in sport and environmental impact of sport; as seen by Anouk Renaud, European Solidarity Corps volunteer at the EUSA Institute.

I love sports. I am convinced that sport is good for society when used as a tool to promote values of inclusion, respect and fair play. However, like many other people, I am increasingly concerned about the climate crisis, and even more in the light of the latest alarming Assessment Report from the Intergovernmental Panel on Climate Change (IPCC). So, I wonder: how does the sport sector, specifically sports events, impacts and how it is impacted by the natural environment? The Beijing 2022 Winter Olympics were announced as the ''greenest Olympic Games'' by the International Olympic Committee, which recently got a brand-new Olympic House in Lausanne recognised as one of the greenest buildings in the world.  Yet, it was the first Olympics relying 100% on artificial snow, a process extremely demanding in energy and water.

Another big sports event to be held this year is the FIFA World Cup Qatar 2022. With suspicions of bribery, poor natural conditions and human rights violation, the event is highly criticised. Each time this event comes into the conversation people tend to voice their opinion around these lines: "Air conditioner in the stadiums is a total nonsense". Despite the challenges, FIFA is aiming for an (overly?) ambitious carbon neutral event. One element that caught my attention is the 974 Stadium, the first FIFA stadium entirely dismantlable made of 974 shipping containers. However, I cannot help but think that the other 7 stadiums are probably a financial and environmental burden for the country, especially because Qatar is not known for being a football nation.

However, there are examples of heritages from sports events benefiting the host cities and region. Indeed, some sports events have heritage-based strategies that strengthen the economy and improve the quality of life and the territory attractiveness. Such events have a big difference with the Qatar World Cup in the sense that they are held in the same location every year or following a regular scheduling.

For some time now, the sport community has been aware of the relationship between environment and sport. Indeed, climate change directly impacts the sport sector for both winter and summer sports, with the difficulty to maintain snow tracks in winter and athletes having to perform under extremely hot temperatures in summertime. The holding of some sport competitions has been challenged because of the environmental conditions. For example, the poor air quality during the Australian Open tennis tournament due to the massive bushfire in Australia in 2020 raised question regarding the welfare of the players and the audience.

On one hand, some sport managers are still reluctant to commit to more sustainable practices. According to the survey report on Existing Barriers (Green Sport Hub Europe Project, 2022), sports organisations have a few reasons that prevent them to work on their sustainability, the three main ones being cost, time, and lack of knowledges on the topic. This last element prevents the decision-makers from seeing the benefits of implementing sustainable practices for both their organisations and the community.

On the other hand, many sport actors seem to be increasingly interested in taking actions and including sustainability in their planning of activities. We can see it through the increasing number of green initiatives during local sports events such as decreasing the use of plastic cups, recycling, and limiting food waste. There is also an enthusiasm for some initiatives or organisations focusing on ecology in sport such as the UN Sports for Climate Action Framework, the Green Sports Alliance and Sport and Sustainability International (SandSI). Moreover, according to a recent survey of athletes from 89 countries, 77% of them are very or extremely concerned about climate change with 76% willing to change their lifestyle to reduce their environmental impact (World Athletics, 2021).

The European Union is pushing for green sport too. Since 2019, as part of the Green Deal, the European Commission, through the Erasmus+ Programme dedicated sport section, added environmental sustainability to its list of priorities to grant fundings for European projects.

In the end it is obvious that sport is impacted by AND it impacts the environment. Given the number of people watching sport around the world, the sport sector should take its responsibility and endorse a key role in raising awareness about the environmental crisis. Athletes and sports organisations can be precious advocates for climate actions. There already are a lot of initiatives in place for the sport community to become greener, however the path to green sport is a journey, as there is still room for improvement and barriers to overcome.

Anouk Renaud is from Montpellier, France and has a strong interest in culture, sports and ecology. She graduated with a Master's degree in International Projects Negotiations. She is currently working as an ESC (European Solidarity Corps) Volunteer for the European University Sports Association and the EUSA Institute in Ljubljana, Slovenia.

Are you a student with an opinion? We are looking for new contributors for our student column every month. Feel free to contact stc@eusa.eu to offer a piece or propose a topic.

read more >>
---
Your Data and Privacy:
EUSA GDPR: General Data Protection Regulation
---
Published by:
European University Sports Association (EUSA)
Office: Tomšičeva ulica 4, SI-1000 Ljubljana
Realisation/Main editor: Andrej Pišl
tel: +386 1 256 0056, web: www.eusa.eu
social: Facebook | Twitter | Instagram | YouTube | LinkedIn | #eusaunisport #myeusa

European University Sports Association