EUSA Newsletter 03-2022, ISSN 1855-4571

The registration for the European Universities Games Lodz 2022 (EUG2022) is open; both for participants, as well as volunteers.

Student athletes are able to compete in 20 sports: 3x3 Basketball, Badminton, Basketball, Beach Handball, Beach Volleyball, Chess, Football, Futsal, Handball, Judo, Karate, Kickboxing, Muaythai, Sport Climbing, Swimming, Table Tennis (including Para Table Tennis), Tennis, Volleyball, Water Polo and Sitting Volleyball as a demo sport. Second General Entry Deadline is February 15, with late registrations possible until March 15, pending there is still place available.

We also want to reach out to the volunteers, inviting you to come to Lodz and actively contribute to the success of the largest academic sport event in Europe, that offers sports, educational and social activities. Please note, that the final date to apply for international volunteers is March 15. There was a special Instagram live session planned on Thursday, February 17 at the EUSA Instagram channel.

For more information about the event and how to join, please see www.eug2022.eu.

More information...
---
Erasmus+ Sport Info Day 2022


01 February 2022
 
 
 
 

The European Commission and the Education, Audiovisual and Culture Executive Agency (EACEA) organised an online info day on Erasmus+ Sport and other EU funding opportunities on January 31 and February 1, 2022.
 

New EUSA Student Commission meets online


02 February 2022
 
 
 
 

The EUSA Commission with the youngest members, which is at the same time one of the Commissions with the longest tradition – EUSA Student Commission, met yesterday online, first time after new members were appointed end of last year.
 

VolFair project partners meet online


09 February 2022
 
 
 
 

VolFair - Be(ach) Volunteer, Be(ach) Fair! project partners met online, making an action plan for sustainability activities related to the project, and setting other steps in the project, dedicated to volunteering and beach handball.
 

Registration for EUC Rowing 2022 starts


15 February 2022
 
 
 
 

The registration for the European Universities Rowing Championship Istanbul 2022 opened today! European University Sports Association (EUSA), Turkish University Sports Federation (TUSF) and the local organising committee are excited to be able to offer rowing as part of the EUSA sports programme also in 2022.
 

Invitation to SELL Games 2022


18 February 2022
 
 
 
 

We are pleased to announce that the Latvian University Sports Federation (LUSF) together with the national university sports federations from Finland, Estonia, and Lithuania will organise the XXXVII SELL Student Games in Latvia. The event will take place from 20th to 22nd of May 2022 in three Latvian cities – Riga, Ogre and Jelgava.
 

HASS General Assembly elects new leadership


18 February 2022
 
 
 
 

Croatian Academic Sports Federation (CASF/HASS) held an electoral General Assembly on February 16, electing new members of the Executive Committee, Supervisory Boards, including the new President of the organisation.
 

ESC on-arrival volunteer training in Zrece


21 February 2022
 
 
 
 

Slovenian National agency MOVIT organised a training between February 14 and 18 for the European Solidarity Corps volunteers in Zrece. EUSA Institute volunteer also took part in the training.
 

EPAS webinar on physical education and school sports


21 February 2022
 
 
 
 

Consultative Committee of EPAS (Enlarged Partial Agreement on Sport) of the Council of Europe hosted a virtual webinar on physical education (PE) and school sports as a creative approach to human rights and democracy. The event was held online on Monday 21 February 2022.
 

Results for the 2021 Erasmus+ Sport Call for proposals announced


23 February 2022
 
 
 
 

The Education, Audiovisual and Culture Executive Agency (EACEA) announced the selection results of the Erasmus+ Sport - Call for proposals; the Cooperation partnerships, Small scale cooperation partnerships and Not-For-Profit European Sport Events. EUSA is proud and happy to announce that a project with the EUSA Institute as a partner, and our flagship event have been selected for funding from the European Union.
 

Support to Ukraine


25 February 2022
 
 
 
 

Yesterday, the European University Sports Association sent a letter of support to the Sports Students' Union of Ukraine. International Olympic Committee published a statement on the breach of the Olympic Truce. Number of International Sports Federations also published their statements and took different actions in order to express solidarity and make efforts to protect safety and security of the athletes.
 

Student athletes successful at the Beijing Winter Olympics


27 February 2022
 
 
 
 

The 2022 Winter Olympics, officially called the XXIV Olympic Winter Games and commonly referred to simply as Beijing 2022 were held between February 4 and 20 in Beijing, the capital city of China, with surrounding areas. Now, after the event has concluded, we were able to gather some data regarding current and former students that excelled at the Olympics, and congratulate all of them for their achievements.
 

Invitation to the Queens Rugby 7 Festival 2022


28 February 2022
 
 
 
 

European University Sports Association (EUSA) is proud to be an associated partner of the Queens Rugby 7 Festival, which will be held May 13-15 in Paris, featuring all-female rugby 7's teams.
 
---

FISU Section
Preparations for 2022 and 2024 FISU World Forums


03 February 2022
 
 
 
 

One of the main educational events of the International University Sports Federation is the FISU World Forum, held biennially in alternate years to the FISU World University Games. Preparations for the 2022 and 2024 editions are underway.
 

FISU kicks off 2022 sports events


26 February 2022
 
 
 
 

International University Sports Federation (FISU) started the new season of sport competitions. 2022 will be a busy season for FISU, with 14 World University Championships and 8 University World Cups on the programme, as well as the World University Games.
 

FISU condemns conflict in Ukraine


28 February 2022
 
 
 
 

International University Sports Federation (FISU) strongly condemns the conflict in Ukraine, which is incompatible with the goal of a better world through peaceful sporting competition. FISU is calling for dialogue and for peace.
 
---

What's up! - Student Column
Raising your voice for peace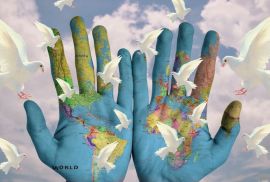 This month's student column addresses the topic of peace that is always - and especially now - relevant, looking how sport advocates for peace.

Only a few weeks ago athletes from all over the world competed in the winter Olympics 2022 and fought for the prestigious medals. There were tears of joy and tears of disappointment. Clear results and tight decisions. We saw performances that have never been seen before, new records and new champions. But the one thing that stood out was that athletes from all around the world were one unity. Fighting and competing. But always fair and in deep respect for their opponents. Peacefully.

What I just described is not only a characteristic of the Olympics, but of sports in general. Every day millions of children, students and adults around the globe are active and practice their sports. In these moments it doesn't matter where we come from, what language we speak or what we look like. Sport has the ability to unite people no matter how different they are. As athletes we are all doing the same things passionately. Isn't that one of the things we all love about sports?

Only a few days later, the news were no longer about peaceful competitions but about war. Only a few hours flight from where I live. These events are frightening. They are the opposite of Olympic peace and everything we athletes stand for which can be seen in numerous expressions of solidarity from sport associations, clubs as well as sportsmen and sportswomen. As the EUSA said: "We are worried about our colleagues from the Ukrainian NUSA, we are worried about the students and university community of Ukraine, we are worried about the Ukrainian citizens and their safety." I am constantly thinking about the people in Ukraine - families, students, athletes - our friends, that now live in constant fear and are victims of the war.

There is competition in sports. But much greater and more powerful than this is our cohesive. It is our task as athletes to show this cohesion and to raise our voices together for peace. As a member of the student commission, but also as an athlete and above all as a human being, I ask you to raise your voice for peace and express solidarity with Ukraine. Together we can make a difference.

The author Jule Wagner is a member of the EUSA Student Commission. She recently obtained her Master's degree in education, with a main focus on Mathematics, German Language and Sports at the University of Munster, and is now pursuing sport economics studies at the IST University of Applied Science.

Are you a student with an opinion? We are looking for new contributors for our student column every month. Feel free to contact stc@eusa.eu to offer a piece or propose a topic.

read more >>
---
Your Data and Privacy:
EUSA GDPR: General Data Protection Regulation
---
Published by:
European University Sports Association (EUSA)
Office: Tomšičeva ulica 4, SI-1000 Ljubljana
Realisation/Main editor: Andrej Pišl
tel: +386 1 256 0056, web: www.eusa.eu
social: Facebook | Twitter | Instagram | YouTube | LinkedIn | #eusaunisport #myeusa

European University Sports Association