EUSA Newsletter 04-2022, ISSN 1855-4571

The registration for participation at the European Universities Games Lodz 2022 has been extended. National University Sports Associations may register additional teams and individuals (where applicable) - and/or make sure the general entry deposits are paid, until the quotas are full; but latest until April 15.

Please note, however, that in most team sports we have almost reached the maximum numbers, but there are 1-2 places available in Basketball (w), Football, Handball (w). For Badminton, Beach Handball, Beach Volleyball, Chess, Sport Climbing, Swimming, Table Tennis, Volleyball and Water Polo (m), there are 2-3 places available. For combat sports - Judo, Karate, Kickboxing, Muai Thai, and Taekwondo, as well as Para Table Tennis, there are still more places available. We encourage you to also contact the national federations in these sports with this information and register as soon as possible.

According to the decision of EUSA, following the recommendations by other governing sports bodies, participation of universities from Russia and Belarus and the representatives of the National University Sports Associations from Russia and Belarus have been suspended from all the EUSA events until further notice. EUSA also established a special Solidarity Fund, dedicated exclusively to support the National University Sports Association of Ukraine. Also other organisations and individuals are invited to contribute to the fund!

For the confirmed teams, quantitative entries are open, and should be filled out as soon as possible (deadline is April 15). If you are unsure about the payment status of your entries, please log in at event registration platform and check your status.

The Organising Committee also invites you to communicate to your national and local volunteers the opportunities to join the international volunteer team. The deadline to apply has also been extended; and is now March 31.

We would also like to inform you that the dates of the NUSA Coordination Meeting (HOD visit) for the upcoming European Universities Games has been set. Representatives of the national university sports associations are asked to save the dates and start planning the participation; other details will be communicated shortly: May 16th: Arrivals; May 17th & 18th: Meetings and Visits; May 19th: Departures.

Apart of daily work in preparing for the European Universities Games and having weekly online meetings with EUSA, the local hosts in Lodz are otherwise also busy with test events; they have just concluded semi-finals of the Polish Academic Championships in Badminton!

The European Universities Games in Lodz are being organised under the licence of the European University Sports Association (EUSA) by the Lodz University of Technology, University Sports Association of Poland (AZS) and City of Lodz, in cooperation with the EUSA Institute and several partners, inlcuding the Ministry of Education and Science, national and local tourism organisations, Polish Olympic Committee, national and local sports organisation, media outlets and is also supported by the Erasmus+ Programme of the European Union.

More information...
---
Green Sports Hub Europe partners meet in Paris


04 March 2022
 
 
 
 

On March 1 and 2, partners of the Green Sports Hub Europe (GSHE) project gathered in Paris in-person, with some participants also joining online. The hybrid project meeting was hosted by the project coordinator Surfrider Foundation Europe.
 

W4C meeting in Spain promoting volunteering


05 March 2022
 
 
 
 

Partners of the Work for a cause, serve for sport (W4C-S4S) project on volunteering in sport held a hybrid transnational project meeting in Almussafes, Spain, on March 3-4.
 

EUSA and FIP meet online


05 March 2022
 
 
 
 

An online introductory meeting with representatives of the International Padel Federation (FIP) and the European University Sports Association (EUSA) was held on March 4, discussing possible cooperation and activities.
 

EUSA takes additional measures in support of Ukraine


07 March 2022
 
 
 
 

The Executive Committee of the European University Sports Association (EUSA) met today for an extraordinary online meeting, discussing the worsening situation and humanitarian crisis in Ukraine.
 

EUG2022 online working meeting


09 March 2022
 
 
 
 

Representatives of the Organising Committee of the European Universities Games Lodz 2022 (EUG2022) and the European University Sports Association (EUSA), with its Institute, met online on March 8, for an intensive working meeting.
 

Kick-off Meeting of the Inclusion and Diversity Commission


10 March 2022
 
 
 
 

EUSA Inclusion and Diversity Commission meet for the first time on March 10, 2022. Members of the Commission, known in the previous mandate as the Equal Opportunities Commission, were nominated for the next 4 years.
 

Focus on International Women's Day and gender equality


11 March 2022
 
 
 
 

This week, representatives of EUSA and the EUSA Institute attended several events on the topic of gender equality with the highlight being the International Women's Day on March 8.
 

MLEA dual career project partners meet in Stockholm


14 March 2022
 
 
 
 

The 2nd hybrid transnational meeting of the project Micro Learning Entrepreneurship for Athlete (MLEA) was held in Stockholm, working on supporting dual career athletes. The main meetings were held on March 10, hosted by the Stockholm School of Economics (SSE).
 

Invitation to the Friendship Games 2022


16 March 2022
 
 
 
 

The traditional event The Friendship Games, hosted by the Tel Aviv University Sports Club and ASA Israel is coming back this summer, after two years break due to Covid-19.
 

Exploring possibilities of EUSA Winter Championships


17 March 2022
 
 
 
 

The 61st edition of the Italian National University Championship in Alpine Skiing took place from March 14-16, 2022 in Val Zoldana. The event was attended also by a delegation from the European University Sports Association (EUSA), exploring the potentials and possibilities of introducing European Universities Winter Championships in the future.
 

PROGRES round table focuses on gender equality


18 March 2022
 
 
 
 

As part of Erasmus+ project Promoting Gender Equality in Sports – PROGRES, a round table on gender equality and equity in sport, with supporting events, was held in Bucharest on March 17.
 

VOLFAIR brings Beach Handball and Volunteering into focus


21 March 2022
 
 
 
 

Partners of Erasmus+ funded project VolFair - Be(ach) Volunteer, Be(ach) Fair! met in Tilburg, in the Netherlands for a meeting on March 19th, setting important steps in the project, highlighting beach handball as a developing sport, importance of volunteering and fair play.
 

Kick-off Meeting of the Education Commission


28 March 2022
 
 
 
 

EUSA Education Commission met in its new composition for the first time on March 25, 2022. Members of the Commission were nominated for the next 4 years. The primary objective of the EUSA Education Commission is to advise and make recommendations to EUSA Office, EUSA Executive Committee and EUSA President on strategic direction of EUSA programmes and activities related to the education through sport.
 

European Open University Powerlifting Cup 2022


29 March 2022
 
 
 
 

Between March 23 and 27, the 3rd edition of the European University Cup in Classic Powerlifting was held in Hamm, Luxembourg. 144 athletes representing their universities from 18 countries from across Europe, took part in the event.
 

iFLIPP project supporting women and ethnic minorities


30 March 2022
 
 
 
 

Partners of the Erasmus+ project Innovating Football Leadership through Practice and Policy (iFLIPP) met online on March 30, reviewing the progress of the project and setting the next steps in supporting women and ethnic minorities in football and sport in general.
 

Towards more sustainable catering in events


31 March 2022
 
 
 
 

Organisation of events poses several challenges when it comes to sustainability, and catering (provision of food and drinks) for participants and spectators plays an important role. As education and exchange of experiences are very important, EUSA and its Institute attended a conference in Slovenian capital Ljubljana, organised on March 31, focusing on sustainable catering in events.
 

Save the Date: Rectors' Conference 2022


31 March 2022
 
 
 
 

Organizing Committee of the European Universities Games Lodz 2022 and the Lodz University of Technology invite Rectors of European Universities to the Rectors' Conference held under the title Academic Sport & Technological Innovation at European Universities. The Conference will be held from July 15-17, at the Lodz University of Technology and will cover different topics, including sport & technology, dual career, and others.
 
---

FISU Section
FISU Steering Committee focuses on Ukraine, Russia and Belarus


14 March 2022
 
 
 
 

Steering Committee of the International University Sports Federation (FISU) met on March 12, condemning the Russian invasion of Ukraine, facilitated by Belarus, and its impact on the Ukrainian people, including the Ukrainian university sports community.
 
---

What's up! - Student Column
What sports can do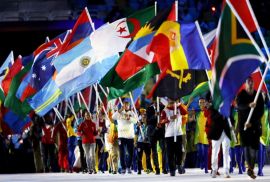 The world today is in pieces, pieces that will have to be put together. How can we put those pieces together and start to look for a better way then violence? Many times before people have turned to sport in hard times. Maybe we can do so again. This month's student column explores the power of and opportunities in sport.

In 2000, at the inaugural Laureus World Sports Awards, Nelson Mandela said: "Sport has the power to change the world. It has the power to inspire. It has the power to unite people in a way that little else does. It speaks to youth in a language they understand. Sport can create hope where once there was only despair. It is more powerful than governments in breaking down racial barriers. It laughs in the face of all types of discrimination."

Mandela himself used sport to unify a country. He fought segregation not with violence but with sports. A national team has the power to unite a country. We see people that normally disagree come together to cheer on their national team. Which is seen at almost every international sporting event. When people see their countrymen go out on the pitch and give it their very best it makes you feel proud to be apart of that country.

FIFA World cup, Olympic games, ICC cricket World cup, the list can go on and on about sporting events that bring people together. Not just as a country but as a people. We see people celebrating together even though they don't cheer for the same country. The pleasure of meeting people who speak the language of sport is all they need. No matter their flag, sport will speak for them.

Sport has brought this author around the world and by doing so also have given me friends all over the world. Friends that I will cherish my entire life. Sport gave me that chance, it made me broaden my horizons and step out of my comfort zone. And I'm not alone in being given that chance through sports. It makes peoples life better, makes them believe in something bigger.

Discrimination, unity, believing, these are just some of the thing's sports contribute. We could go on and on with more things that sport gives us but with the world looking like it does today these are utterly important. Together we will overcome the horrors of today and maybe sport can help us get there.

The author Hampus Herne is a member of the EUSA Student Commission. He is a student of Sports Management at Malmö University.

Are you a student with an opinion? We are looking for new contributors for our student column every month. Feel free to contact stc@eusa.eu to offer a piece or propose a topic.

read more >>
---
Your Data and Privacy:
EUSA GDPR: General Data Protection Regulation
---
Published by:
European University Sports Association (EUSA)
Office: Tomšičeva ulica 4, SI-1000 Ljubljana
Realisation/Main editor: Andrej Pišl
tel: +386 1 256 0056, web: www.eusa.eu
social: Facebook | Twitter | Instagram | YouTube | LinkedIn | #eusaunisport #myeusa

European University Sports Association